Arizona Department of Public Safety Officer Keith Duckett, and his 7 year old K-9 Partner, Rico, completed 10 weeks of K-9 Training before being assigned to duty in the southern part of Arizona, patrolling the interstate highway including drug interdiction duties. K-9 Rico had been assigned to the K-9 Unit for 4 years.
On the evening of August 20th, 2007, at approximately 19:10 hours, Officer Duckett observed a Chevrolet pickup truck speeding excessively in the vicinity of mile marker 287, on Interstate 10, just outside of Benson, Arizona. Officer Duckett then turned on his emergency lights and attempted to pull the speeding vehicle over. Instead of pulling over to the side of the interstate, the speeding vehicle proceeded to accelerate even more with Officer Duckett now close behind in a brief pursuit of the fleeing vehicle that lasted approximately three miles, with the suspect driver now leaving the interstate and crashing the vehicle on the side of the roadway, who then exited the vehicle along with the passenger and began to run away. Officer Duckett inspected the suspect vehicle and noticed a large quantity of marijuana in the rear of the truck, at which time both he and K-9 Rico engaged in a foot pursuit of the fleeing suspects. Officer Duckett caught up to and apprehended one of the suspects, at which time he then noticed that K-9 Rico was no longer in sight. For some unknown reason, K-9 Rico became distracted and instinctively returned to the DPS patrol vehicle. At some point after this the second suspect was taken into custody, while K-9 Rico ran out onto Interstate 10, where he was fatally injured by a tractor and trailer. The two suspects were identified as illegal aliens from Mexico and were booked into the Pima County jail on suspicion of transportation of marijuana, possession of marijuana and possession of marijuana for sale. The amount of marijuana being transported by the suspects weighed in at 967 pounds.
During his 4 years with the DPS K-9 Unit, K-9 Rico has been responsible for the seizure of nearly 68,000 pounds of marijuana, 5 pounds of heroin, 86 pounds of cocaine, 95 pounds of methamphetamine and close to One Million Dollars in U.S. Currency, in addition to the apprehension of several suspects.
K-9 Rico is remembered for his courageousness and dedication to his K-9 Duties. He is missed by his handler and his family, whom he resided with when he wasn't on duty, members of the Arizona Department of Public Safety's K-9 Unit, and by members of the Arizona Department of Public Safety.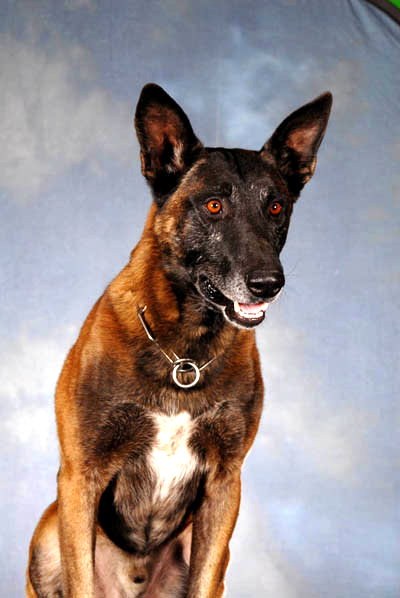 "K-9 Rico"